Miami Barber Pole Cigars
A Taste That Started in Miami and was perfected in Nicaragua
These Nicaraguan Mild to Medium bodied premium Barber pole gauge cigars are aged 6 years they have a subtle creamy, earthy flavor. The Double wrapper changes the taste from mild to medium to medium full with notes of pepper and cream makes it a very interesting smoke all the way down to the nub and of course it is all premium Cuban seed.Get them today in a bundle of 25 As always all our Bundles are guaranteed to please.
Made By Cacitrasa Cigar Factory
Add a Lighter for a Few Bucks More!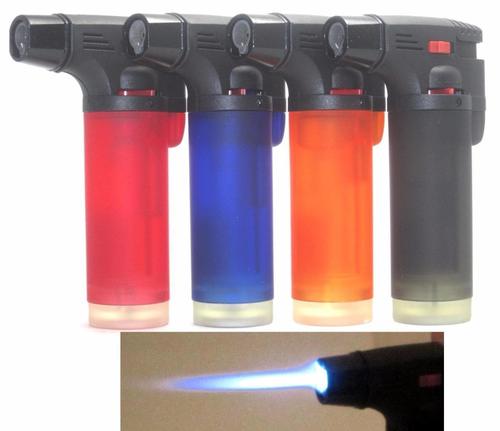 Before I get into my review of this AMAZING CIGAR, let me ask you a question. Have you heard of Davidoff, Perdomo, Drew Estate, My Father, and Padron? Well, if you have been smoking cigars for any length of time you know they are heavy hitters in the cigar industry. So, why did I mention this? Because they all started from humble beginnings and look where they are now. Which brings me to Alex & Jackie Herrada. Nine times out of ten you may have not heard of this talented couple or their company. Well, until recently I had not either. They are the owners of Miami Cigar Bundles located in Miami, Florida. Although they are not well known, yet, their cigars are absolutely amazing! Remember the name because they will be one the elite names in the cigar industry. I encourage you to check out their website and indulge in a smoke experience you may have not had in awhile. The construction of this barbers pole is beautiful! The wrapper is chocolate and caramel in color with minimal veins. The shape automatically reminds you of a torpedo but with the combination of a 52 and 58-ring gauge it is very pleasing to the eye, a comfortable feel, and the aroma is natural but breathtaking. As I toast and take my first draw, I am greeted with notes of earth, pure tobacco flavor, and a slight bitterness. Continuing into the first half, the flavor is pretty consistent and well balanced. The burn is even and consistent. The taste in the second half offers no changes. In my opinion, this cigar is the epitome of tobacco at its purest. If you are looking for notes of chocolate, nuts, spice, or the likes thereof, this is not cigar for you. Smoking this cigar is similar to having a cup of coffee with no cream or sugar without the strong bitterness. Entering into the third half, flavor is consistent with no changes. This was an absolutely unique and flavorful cigar! For some it maybe an acquired taste but as I mentioned previously, this is tobacco flavor at its purest. The burn was even and consistent, with no touch-ups needed. Although it is 7 ¼" in length it held a medium burn so don't let the length intimidate you. The draw was full and effortless. Smoke was thick and abundant, and the ash was a light gray. Overall, the cigar was excellent and the flavor was absolutely delicious! This is more a medium bodied cigar that can be enjoyed any time of the day. So I invite you to try the Salomon Barber Pole and see what your experience is. Keep it smokey familia :0===~~~ Reviewed by: Mz. Azucar Morena
If for any reason you are not Happy with our Product please contact us within 7 days so that we may remedy the situation.You can reach me Alex the owner 24 hours a Day 7 days a week! On My Direct line 305-487-2987
Some may see this smoke as a gimmick, but everything, flavor, draw, ...is great.

I ordered a bundle of these to try. They are very excellent cigars. It burns consistently and the alternating wraps gives a very nice flavor all the way to the nub. As another one said, it smokes like a much higher priced cigar. I just ordered another bundle and these have been added to my regular rotation

Great cigar for a great price. smokes like a $10.00 cigar. As always Alex and Jackie takes care of their customers.

Very smooth draw, well balanced and evem burn. The cigar is a great smoke, if you like a medium maduro them this is a cigar for you, highly recommended.

Received a bundle of barber pole salomons promptly. Put them in the humidor for 2 weeks to rest and acclimate. Put a shot glass of cognac in the humidor mid-week 2 to infuse the sticks. The cigar is well-made, the draw easy, burns evenly, stays lit. It is mild to medium bodied, to me. Not spicy, harsh, or heavy. It has a pleasant aroma, Overall, it is a very good cigar, and a great value. Great to sit out on the deck in the evening with a strong cup of coffee, or a whisky, brandy, or whatever you want to savor.

Great cigar! Construction, burn, smoke, flavor, smooth, all exceptional right down to the nub. And the price is right! Just made these my everyday smoke.

GEE WHIZ! GOLLY! AND WOW!

Just was gifted a bundle of these and all I can say is..."HEAVEN ON EARTH" A super smoke...burns even...right to the nub...and smooth! PASTOR TONY

The barber pole is always satisfying. Medium blend. Complex but short on flavor. Smooth & creamy. An excellent everyday stick that taste like today is a special occasion. Keep up the excellent work. Thank U.

Cigar Bundles of Miami when it comes to Premium cigar bundles you guys are the Best! really can not beat your deals! Thank you for sharing the best of Miami wiith us!